We can arrange special tours of our museum and the airfield site, and through our contacts with other nearby bases we can arrange for you to visit them as well. We usually offer this service FREE of charge. See TOURS below.
... our Facebook page is open
every day, all day.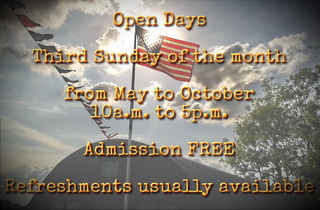 There are no more
OPEN DAYS
until 2024.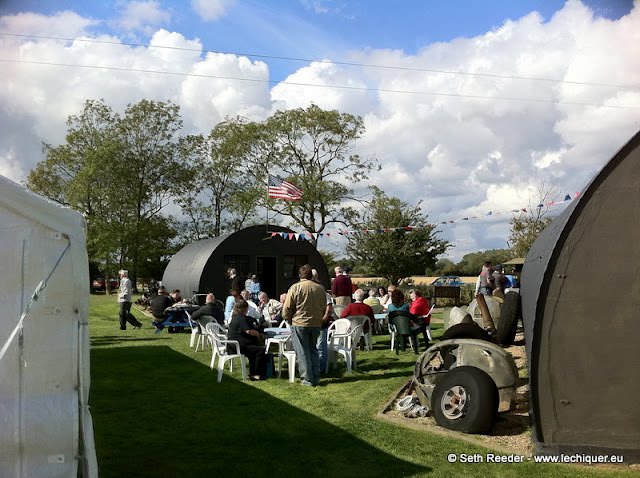 A windy but sunny open day on 15th October 2011.
On that day Hardwick Warbirds were also flying
from the adjacent airstrip at Airfield Farm and
there was a classic car parade in the afternoon.
Tea and homemade cakes aplenty.
Tours
An open letter from Colin Mann

to the 93rd BG (H) friends and family, which also applies to other groups. Please read before you book your trip:
OPEN LETTER

If any of you are thinking of visiting the Museum and the base at Hardwick please get in touch with us first so we can help you plan your visit. This also goes for the other groups.

DO NOT PAY FOR A TOUR GUIDE. We have been showing veterans and their families around Hardwick and the Norfolk countryside ever since they have been coming home to their bases. The most we ever ask is for a little help with the fuel cost. We can arrange for base contacts from other bases to help out if you need to visit more than one.

The Second Air Division Memorial Library* in Norwich has a list of base contacts. These are all volunteers who are happy to show visiting Americans around their chosen base, plus we know the history of our bases, not just what is written in books, with most contacts growing up on or around the bases or surrounding area.

Some of you may be planning a trip to England and then on in to Europe. Well, a planned tour is probably the best way for you to go, however, if you're just going to drop by while on vacation, check with us or the Library* first. It was one of the reasons the Second Air Division set up their memorial for you.

We will do our best for you!

Colin Mann. (Chairman (retired))
93rd BG Museum Hardwick England.
'Friends of the Second Air Division Memorial'
(this letter has not been amended)
* The Library details are on the CONTACT page,
Its name has changed to the American Library.