---
Three main runways were laid in concrete, each 50 yards (46m) wide, and 1,975 yards (1808m), 1,400 yards (1280m), and 1,400 yards (1280m) long. Total area of concrete* in runways, perimeter track and aircraft dispersal points was 550,000 square yards (113 acres, 459870m2, 46 hectares). Cost: $4,400,000 in 1942. Like other heavy bomber fields originally planned for RAF needs and begun at the same time, this airfield had three T-2 hangars grouped together on the administrative and technical site, in this case on the eastern side of the airfield. The technical site was adjacent to the hangars and bordered the country road running from Hempnall to Alburgh.
On the eastern side of this road lay the major part of the camp with domestic sites hidden amongst woodland. One site was located at Topcroft Street. All accommodation was of the temporary type, mostly Nissen/Quonset huts . The bomb dump was situated off the north-west corner of the airfield in and adjacent to Spring Wood.
(*That's roughly 63 football/soccer
pitches' worth of concrete surface - WebMaster.)
(Much of the above is an extract from Wikipedia,
see the full article and more about the RAF
and USAAF at Hardwick.)
(Conversion by Convert-Me.com)
---
The photo below shows the main runways at Hardwick Airfield but not the accommodation area where the 93rd Bomb Group Museum is sited. The accommodation area is to the east/right of the map along the road marked 'to Topcroft Street'. See also the MAPS page.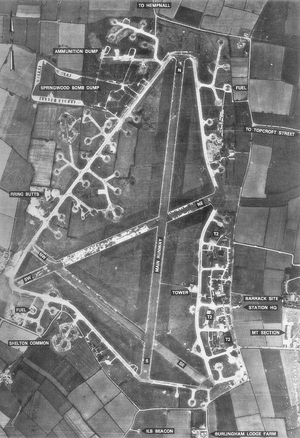 The 1942 aerial photo below overlaid
on a 2011 map. (Permisson of Nick Stone,
see his Geomapping pages).
---
Hardwick airfield in 2012
In 2017 Hardwick airfield is still in use: runway 13-31 and an adjacent grass strip 17-35. There is a further grass airstrip at Airfield Farm, slightly to the east.